Security Studies Undergraduate Program Overview
---
On this Page
---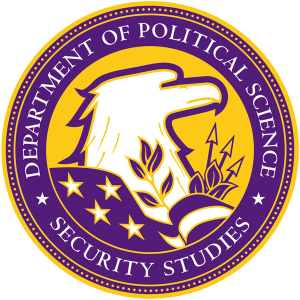 What is Security Studies?
ECU's Security Studies Program combines courses from the disciplines of political science, criminal justice, sociology, history and geography with courses from other colleges: the College of Health and Human Performance (Environmental Health); and the College of Engineering and Technology (Computer Science and Technology Systems).
---
Multidisciplinary Studies: Security Studies (120 Credit Hours, BS or BA)
The program utilizes an interdisciplinary approach to understand and address diverse domestic and international threats to U.S. security. You will learn how to evaluate threats and develop responses at the international, national, state, and local levels. These threats may be posed by natural disasters or by man, whether through governments or non-state actors such as terrorist groups.
Core Requirements and Electives
Students take five core courses and choose eight elective courses from options in four different departments: ANTH, BIOL, EHST, GEOG, HIST, ICTN, ITEC, JUST, PLAN, POLS, RELI, and SOCI.Students have to take one writing cognate and one communications cognate course.
Students may choose either the BA or the BS degree
The Bachelor of Arts degree requires that students complete a foreign language through level 1004 as part of their program. Foreign language experience can provide an important hiring advantage for careers that are internationally-oriented. Options available at ECU include Russian, Spanish, French, German or Japanese. For more information about the foreign language requirement see Placement Testing, Foreign Language.
If your interests are more focused on domestic security, you could opt for the BA and Spanish, or choose the MULT: SECS BS as your major, which does not have a foreign language requirement.
---
Minor in Security Studies
As a Security Studies Minor student you will take a minimum of 18 semester hours of Security Studies: two core courses (SECS 1000 and SECS 4000) and four courses from a list of electives. You can major in any career field, professional program or liberal arts curriculum which allows for a minor field of study.
Within the core courses, students must take SECS 1000 Introduction to Security Studies, which is currently offered in fall semesters. During their senior year, students must take SECS 4000 Senior Seminar in Security Studies, which is offered in the spring.